Image: Iain Brown|Daily Record
Drones are now playing an instrumental role in a large proportion of police operations. From being used to find missing persons, to locating a suspect, to providing a watchdog above for boots on the ground officers, drones are now a vital piece of kit for police in the UK. In a recent survey conducted in November 2020 under the Freedom of Information Act, it was revealed that 40 of the 43 national police forces had now adopted drone technology, with over 288 drones operational across the board.
Police forces and media outlets, such as West Midlands Police – Eye in the Sky twitter account, are now beginning to showcase how they use drones on a day-to-day basis. In this blog, we will be looking into 5 times that the police have used drones for good.
For information on you can incorporate drones into your processes, why not download our FREE guide?
1. Nottinghamshire Police use drone to find missing 5 year old girl
June 2021 saw the most recent case of drones showing why they are the ultimate search and rescue aid, as a five-year-old girl in a Disney onesie was found after being spotted walking alone at midnight, two miles away from home. The combined effort of sniffer dogs and the drone team led to the child being found the following morning.
Many police forces have combined conventional search and rescue methods much in a similar manner to this case. Generally, a boots on the ground team will patrol the search radius while a drone provides aerial support. Using thermal imaging, pilots are able to supply cover previously only available by helicopters.
2. Derbyshire Constabulary locate suspect on the roof of building
During a recent manhunt, officers from Derbyshire constabulary's drone unit were able to illuminate the scene of search using the spotlight attached on the DJI Mavic 2 Enterprise Advanced. This drone also comes with an additional 2 attachments, including a light beacon that flashes so a spotter can keep track of the drones location, and a speaker on which users can record pre-record messages or sounds – hearable from up to 100m above in most conditions.
This is another excellent exhibit of drones establishing their role as a more cost effective solution for helicopter coverage. Reports from Devonshire & Cornwall Police showed that running costs for police helicopters are around £1700ph – a third of the price of the Enterprise Advanced.
The moment our divisional pilot located the suspect on the roof of the building and was able to guide officers to their location. The spotlight on the #Mavic2Enterprise was used which safely illuminated the area for the officers. #OneTeam #EyeInTheSky @DerWestResponse pic.twitter.com/9VQDNBWbXi

— Derbyshire Constabulary Drone Unit (@DerPolDroneUnit) February 10, 2021
3. Kent Police seize five uninsured bikes used by anti-social riders
Officers in Kent used one of their UAVs to follow offenders that had been reportedly riding anti-socially through popular footpaths and nature reserves. Alongside seizing 5 motorcycles, officers also issued 10 section 59 warnings to motorcyclists and issues 16 fines for breach of COVID-19 regulations.
With quick take of times boasted by drones such as the DJI Mavic 2 Enterprise Advanced or the Parrot Anafi USA, pilots are able to become operational in under 60 seconds. Both drones would be suitable for such a mission, each having their own strengths. The M2EA has a further operational radius, while the Anafi USA has an IP45 rating – making it suitable for rainy conditions.
Source: Kent Police
In rural areas without roads, it may have traditionally been more of a struggle to catch such offenders. By using drone technology, you can not only locate suspects, but record evidence of the crime taking place.
4. West Midlands Police detain long-term wanted male
A drone flown by a pilot from West Midlands police caught footage of a long-term on the run male finally being apprehended during the first week of June 2021. It seems that dogs and drones are becoming quite the team!
While this operation seems to have gone fairly smoothly from what you'll see below, it never hurts to have a guardian watching above.
@dronesWMP providing over-watch to @WMPDogs and @TiptonWMP locating and detaining a long term wanted male attempting to hide from Police. Good job PD chaos #Gooddog #woofjustice @WMPolice pic.twitter.com/2F3QHCtxr3

— WMP Eye in the Sky (@dronesWMP) June 3, 2021
5. Coventry Police visit local school
Police officers rely on cooperation from members of the community in order to devise solutions. The communities ability to trust the police is based on whether they feel police forces reflect their values and feel safe in communicating with officers.
A focus on improving community relations has seen the drone unit over at Coventry Police have been doing their part in engaging with the youth at a local school. While its not a story in a drone in action, its great to see the team building relationships and improving trust with young people, as well as showing them what the tech can do.
Keep it up guys!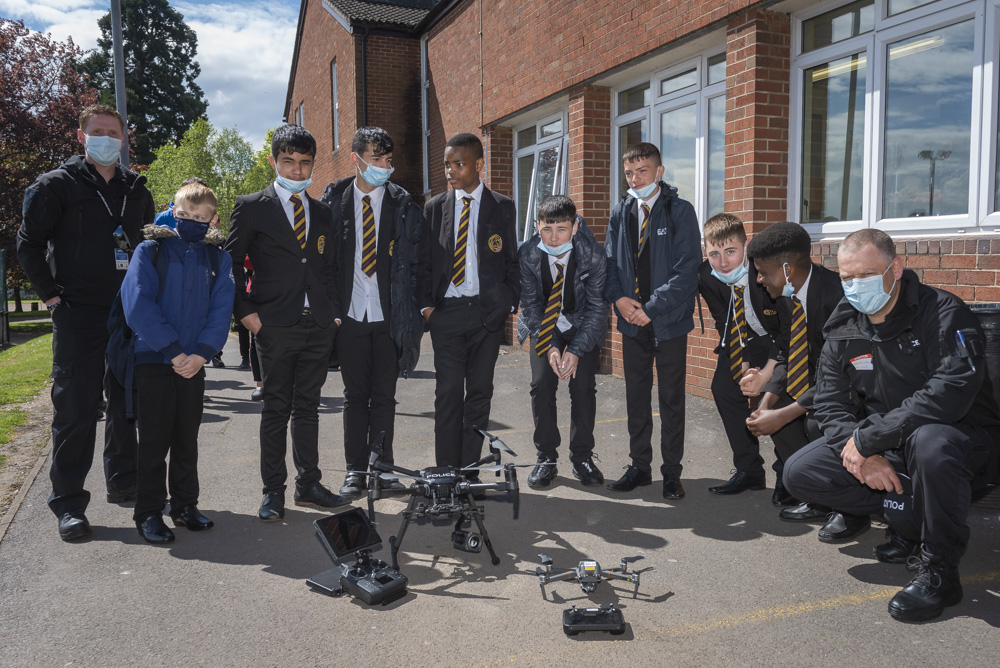 Source: Coventry Police
If you are interested in finding out how drones can improve the performance of your public safety organisation, click here to find more details!
Currently we have a discount on GVC training for Police officers across the UK.
£390pp – GVC for 5+ Officers
£290pp – GVC for 10+ Officers
Contact Public Safety & Defence business development manager, Sam Denniff, today for more information!